Firstly, thanks to Hachette Australia for this review copy <3
(Also, my sincere apologies I never got the time to paint my nails for the competition.)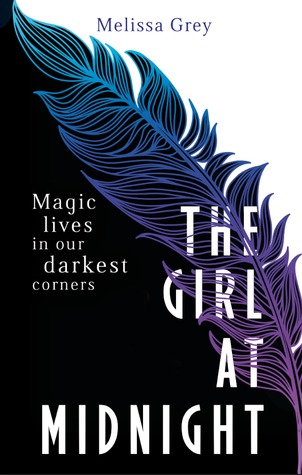 Date Read: March 15 - 19 2015
Date Released: April 28th 2015
Publisher: ATOM
Source: Review copy via publisher
My Rating:
Synopsis:
"Beneath the streets of New York City live the Avicen, an ancient race of people with feathers for hair and magic running through their veins. Age-old enchantments keep them hidden from humans. All but one. Echo is a runaway pickpocket who survives by selling stolen treasures on the black market, and the Avicen are the only family she's ever known.

Echo is clever and daring, and at times she can be brash, but above all else she's fiercely loyal. So when a centuries-old war crests on the borders of her home, she decides it's time to act.

Legend has it that there is a way to end the conflict once and for all: find the Firebird, a mythical entity believed to possess power the likes of which the world has never seen. It will be no easy task, but if life as a thief has taught Echo anything, it's how to hunt down what she wants . . . and how to take it.

But some jobs aren't as straightforward as they seem. And this one might just set the world on fire."
---
"But war makes monsters of us all, and the people who least deserve it pay the highest cost."

I'm happy to say that so far, 2015 is a really good year of YA debuts. I've been pleasantly surprised by so many releases and The Girl at Midnight doesn't disappoint! I will warn you though that The Girl at Midnight DOES hold some similarities to Daughter of Smoke and Bone by Laini Taylor and I think it's marketed that way. That doesn't mean tGaM doesn't have its own unique qualities.

I really wasn't sure what to expect when I started tGaM but I knew that I immediately liked the MC. At just 7 years of age, Echo left her family which is hinted abused her. She resides in the New York Library when the seer (the Ala) of a species called the Avicen finds her and takes her in. Ever since, she's called these bird-featured people her family but she still feels out of place as a human. These Avicen have been in a centuries old war with dragon-featured people (like humans but with scales on their cheeks) called the Drakharin and supposedly something called the Firebird can stop the war. And what do you know, it's Echo's journey to find it!

I immediately fell in love with Echo and her voice. She is so sarcastic and snarky but also an extremely loyal person with morals. Despite being a thief she actually does try to do the right thing (steal from the rich give to the poor?) and I loved the way she protects her friends. The best thing about Echo is she knows when to run. That is so important in books like these. More often than not, the protagonist tries to act the hero and plunges herself into a situation that she can't get out of because for some unknown reason, even though she can't fight, she thinks her jumping in will help… Yeah no. As a thief, Echo has honed her skills for running and she can run FAST. Sticky situation? Echo doesn't stick around to find out how she's going to get pummelled, she runs! I also loved her motives for finding the Firebird what with her need to fit in. She tries to use humour/sarcasm when the situation is too serious/deadly and I loved that because it's her coping mechanism. I can relate to this because I do it too and I think sometimes people in real-life don't get that about me. She's just a great character overall.

I really loved the secondary characters and friendships in this. The Ala who is like a mother-figure to Echo, Dorian whose loyalty to his prince goes beyond that of a Captain of the Guard, and Echo's best friend Ivy who is so sweet and just this constant in Echo's life no matter what. Add on the flamboyant Jasper who adds some colourful flavouring and Grey really has me invested in this motley crew!

Cringe time. Love triangle. Yup. I'm sorry to break it to you but there IS a love triangle but to be honest I could easily see who was the clear love interest. I thought it was awesome that there was no real bad guy that made it so easy for Echo to choose. Either way, there was one clear winner and he made me swoon so much. So he might be a little cliché with regards to male love interests of this genre but oh he's lovely and beautiful and sweet and gosh WHERE DO I FIND ONE?

The plot was very well thought out with these clues placed throughout for Echo to follow. Yes it may have been a bit coincidental but the way Grey writes is so fun and action-packed you just speed through and overlook all the flaws. I couldn't put this down and I'll admit that while one of the major plot points was very predictable, I did get a bit of a shock at another.

Overall, I enjoyed The Girl at Midnight so much! Grey's writing is fun but also beautiful, Echo is a fabulously snarky protagonist, the love interest is swoony, the friendships are so great and add in an action-packed plot and you have a recipe for a wonderful book one in a series. What a great debut!
"Schwellenangst... The fear of starting something new,"