Firstly, thanks to Bloomsbury Australia for this review copy <3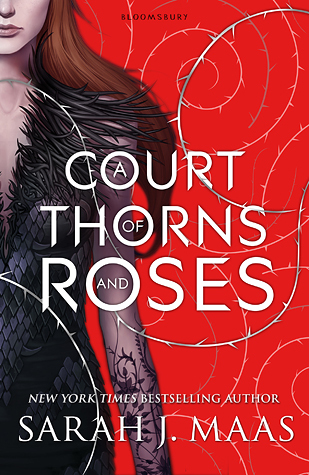 Date Read: February 3 - 5 2015
Date Released: May 5th 2015
Publisher: Bloomsbury
Source: Review copy via publisher
Genre: High fantasy/fairy tale retellings
My Rating:
(Not enough stars to rate)
Synopsis:
"Feyre's survival rests upon her ability to hunt and kill – the forest where she lives is a cold, bleak place in the long winter months. So when she spots a deer in the forest being pursued by a wolf, she cannot resist fighting it for the flesh. But to do so, she must kill the predator and killing something so precious comes at a price.

Dragged to a magical kingdom for the murder of a faerie, Feyre discovers that her captor, his face obscured by a jewelled mask, is hiding far more than his piercing green eyes would suggest. Feyre's presence at the court is closely guarded, and as she begins to learn why, her feelings for him turn from hostility to passion and the faerie lands become an even more dangerous place. Feyre must fight to break an ancient curse, or she will lose him forever."
---
"Magic – everything was magic, and it broke my heart."
How to start review? How to review awesome? I can count on one hand the number of NA books I've enjoyed in the past. The bulk of NA out there is contemporary with some paranormal mixed in but NA high fantasy? You guys ACOTAR is an absolute game changer. I think this is a first. It's got the finely crafted world of YA high fantasy, with that extra bit of edginess and seductiveness that makes it NA. You can say that this book has officially seduced me. The world needs more books like this. The world needs more Sarah J Maas. I think this woman just has magic (I'm inclined to believe she is of the fey) that she weaves into her words and stories to create worlds that just suck you in and it's like you've drunk faerie wine, become entranced, never to see the mortal world the same ever again.
Nineteen year old Feyre is struggling to keep her family alive. Impoverished, she spends her days hunting in the forests while her older sisters and father uselessly sit at home, relying on her for everything. I want to punch Nesta in the face. Please Sarah, please can I? Despite how ungrateful her family is, Feyre once made a promise to her dying mother to take care of them. She leaves her childhood and innocence behind to shelter and feed them. She is cynical, determined, fiercely protective of those she loves and takes no shit from anyone. No not even you. I love how she's got the perfect balance of bravery but she knows fear as well. The faeries are monsters and there is no point in being fearless in their presence. To do so would be idiocy. I loved the way her character is balanced – brave at the right times, showing fear in others, because if you don't fear the faeries then you're probably not human. As the story progresses, she makes many realisations about herself, about those around her, and we see how just what she's willing to do for those she loves.
LUCIEN. RHYSAND. Two of my favourite secondary characters. I think of Lucien as the loyal sidekick. Protective of his master but not afraid to show his opinion, I loved his snarky comments. He made a lot of tense moments during the book fun with his witty banter with Feyre. And there is a story behind him as well. One that I'm just waiting for Sarah to tell. Then there is Rhysand. Dark, enigmatic, full of hidden motives ermagherd I always fall for the dark ones. There is more to him than meets the eye.
Now. Tamlin. Romance. Whew *fans self* Nope I need an a/c. I just. Wait nope give me a moment it's too hot in here. Much sexy. Much steamy. This is what makes the book more new adult than YA and I want to read ALLLL the books like this. As with most of my reviews of Sarah J Maas's books, I'm not going to say much about the romance because you just need to read it yourself. All I have to add is, she has a way of writing exquisite men.
The plot of course, is no short of fabulous. Expertly weaving fairy tale with folklore, A Court of Thorns and Roses draws on recognisable elements, yet holds its own as a story. It left me feeling the warm and fuzzies that a fairy tale brings, but also mesmerised and haunted with the chilling tale of faerie monstrosity. Beauty and the Beast has nothing on this curse. Belle's sacrifice had nothing on Feyre's pain. And the townsfolk have nothing on the brutality and abhorred torture methods of the High Fae.
In the face of immortals, we can see just how weak we are as humans. How fleeting we are in existence. But Maas also shows us that because we have such short lifespans, we feel so much more, love so much more intensely and will go to greater lengths to achieve our goals because our days are limited.
Throughout this, Sarah's signature writing style shines through – even more eloquent and gorgeous than before. Through her stunning imagery, I was Feyre as she felt the landscapes being painted through her fingertips, I was trembling on the ground as my bones broke. I swam in starlight and then drank it too.
"Cauldron save you, Mother hold you. Pass through the gates, and smell that immortal land of milk and honey. Fear no evil. Feel no pain. Go, and enter eternity."