Firstly, thanks to St Martin's Press for this review copy <3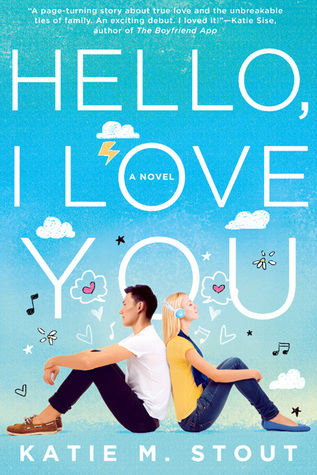 Date Read: May 27 - 31 2015
Date Released: June 9th 2015
Publisher: St. Martin's Press
Source: Review copy via publisher
Genre: Contemporary
My Rating:
Synopsis:
"Grace Wilde is running—from the multi-million dollar mansion her record producer father bought, the famous older brother who's topped the country music charts five years in a row, and the mother who blames her for her brother's breakdown. Grace escapes to the farthest place from home she can think of, a boarding school in Korea, hoping for a fresh start.

She wants nothing to do with music, but when her roommate Sophie's twin brother Jason turns out to be the newest Korean pop music superstar, Grace is thrust back into the world of fame. She can't stand Jason, whose celebrity status is only outmatched by his oversized ego, but they form a tenuous alliance for the sake of her friendship with Sophie. As the months go by and Grace adjusts to her new life in Korea, even she can't deny the sparks flying between her and the KPOP idol.

Soon, Grace realizes that her feelings for Jason threaten her promise to herself that she'll leave behind the music industry that destroyed her family. But can Grace ignore her attraction to Jason and her undeniable pull of the music she was born to write? Sweet, fun, and romantic, this young adult novel explores what it means to experience first love and discover who you really are in the process."
---

I'm undecided on how I feel about Hello, I Love You. While I loved the Korean aspect to this, I had major issues with the MC and her voice.

On a whim, Grace Wilde runs away from a family scandal to an international boarding school in Korea. Sadly, I really disliked Grace because she turned what could have been a great eye opening experience into something cringey. I mean, I would LOVE to visit Korea or study abroad. Grace chooses Korea because it was the first thing that popped up on her Google search. Upon reaching Korea though, she doesn't embrace Korean culture. This annoyed me a lot because she chose to go to Korea for a fresh start. Nobody forced her to go and yet she blatantly rejects and holds prejudices against the people and their culture. She's plain racist and I just got the big impression that Americans are ignorant red-necks with a superiority complex. I also found her reactions, especially to Jason, unrealistic and unrelatable. She got jealous at every little thing and honestly had no right to be – I mean FFS Jason is an idol and can do as he pleases. I couldn't understand how she didn't understand this especially with her famous music family background.

I did really like the secondary characters though. They were all fun and genuine. I liked Sophie's easy-going nature and willingness to help Grace fit in. I absolutely adored Jason's bandmate Yoon Jae. He was really sweet and accommodating. I think there could have been more development with the secondary characters. There were definitely more layers to Yoon Jae, and the relationship between Eden (the band) that could have been explored a lot further but the book concentrated heavily on the romance.

I wasn't the biggest fan of the romance or Jason to be honest. Grace was constantly trying to please him it seemed, or if she wasn't doing that, she was being jealous and angry at him. Jason was hot and cold all the time and while I like my guys broody he had major issues. At times I thought he was trying to protect Grace but I couldn't tell, because I felt the deeper parts of their relationship weren't delved upon. It was practically insta-like on Grace's part even though she kept trying to deny it and I was just cringing because he actually treated her like shit in the beginning.

One of the biggest things that annoyed me about this book was the way Grace acted all high-and-mighty about things she thought she knew. Especially in regards to music and K-pop. I'm sorry but the way she dissed K-pop and said it lacked emotion, had "parent-friendly chords", that simply pop means the quality of music is lacking realllyyyyyy pissed me off. Just because she comes from a family of musicians doesn't mean she knows everything. She didn't even have any formal training and yet she was suddenly the expert? Oh hell to the no. FYI Grace, your country music and old rock doesn't appeal to me. Everybody likes different things. As for lacking emotion – 2AM's performance of Can't Let You Go Even If I Die, there was this one stage where Changmin cried because of the emotions behind the song. And what about Sunggyu in the Paradise stages? When he drops to the floor I swear to god I want to cry every time. There are soooo many others too. I get feels every time B2ST performs.

On the other hand, Stout does a wonderful job of taking us around South Korea and exploring the country. We get a feel for Korean food, the lifestyle, culture, and my favourite – the shopping. The different kinds of foods and hawker stalls are described really well and even though I personally don't like Korean food, I wanted to visit Korea just to experience the lifestyle.

Overall, I thought the ending was the most realistic part. When everything comes crashing down on Grace and all the emotions she kept locked inside broke free, I finally got a feel of a more mature girl who had been through a lot and wanted to escape. The MC's voice aside, Hello, I Love You is also well written and Stout can definitely show (not tell).