Firstly, thanks to Penguin Teen Australia for this review copy <3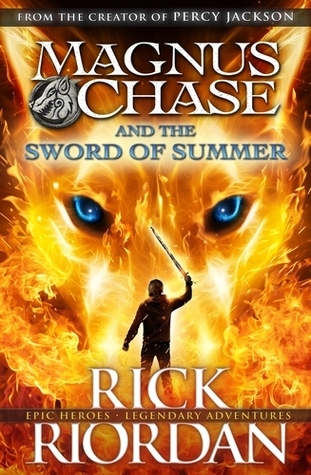 Date Read: September 30 - October 5 2015
Date Released: October 6th 2015
Publisher: Penguin Teen Australia
Source: Review copy via publisher
Genre: Fantasy/mythology
My Rating:
Synopsis:
"Magnus Chase has always been a troubled kid. Since his mother's mysterious death, he's lived alone on the streets of Boston, surviving by his wits, keeping one step ahead of the police and the truant officers.

One day, he's tracked down by a man he's never met—a man his mother claimed was dangerous. The man tells him an impossible secret: Magnus is the son of a Norse god.

The Viking myths are true. The gods of Asgard are preparing for war. Trolls, giants and worse monsters are stirring for doomsday. To prevent Ragnarok, Magnus must search the Nine Worlds for a weapon that has been lost for thousands of years.

When an attack by fire giants forces him to choose between his own safety and the lives of hundreds of innocents, Magnus makes a fatal decision.

Sometimes, the only way to start a new life is to die . . ."
---

I haven't read something this entertaining in like… EVER. The Sword of Summer is probably the funniest book I've ever read and I enjoyed every bit of it.

Picking up The Sword of Summer, I expected Magnus Chase to be another Percy Jackson. Maybe Percy 2.0 new and improved. But Magnus holds his own – his own story, his own personality. He's his own memorable character. The son of a Norse god, he's pulled into a world where Norse mythology is actually true. He embarks on his journey of fate, destiny and heritage.

I freaking adored Magnus' character. The thing about Riordan's characters (ok I've only read PJO and this but that counts right?) is that they're relatable, ordinary teenagers that are just trying to get by in life when they're begrudgingly swept up into a mess of family history and quests of fate. What I love about Magnus is the way he approached everything. After everything he's been through, he still tries to put a humorous spin on life. That doesn't mean he takes it as a joke. Far from it; he's been through and suffered so much he knows how to add a bit of light to situations. His thoughts are extremely sarcastic which NEVER went overboard. I just couldn't get enough his snark. It was so fitting for the situations (I think he'd be an awesome stand-up comedian) and made them really relatable. There was this one point where they were talking about paradoxes being the strongest ingredient for crafting: "… a woman's beard", and Magnus goes "Dunno if that last one is a paradox" and I just about died of laughter. I admired Magnus' values as well. The way he upheld his beliefs of friendship and family, and not in a self-righteous kind of way either, made me want to hug him and shout him a falafel meal. The way he thought of his mum, full of love and gratitude, it's not something you often see portrayed in books, especially from a male POV.

Enough gushing about Magnus. Because now I shall gush about his companions. I loved the diversity to his crew – Blitz, Hearth (who's deaf and uses ASL), and Sam a Muslim Valkyrie. You could say they were joined by their painful pasts but on top of that they just clicked so well. It was their willingness to do anything for each other, to help save the world, to see the good in people. I know I sound like rainbows are about to shine and flowers burst at my feet (that does happen at numerous points in the book though) from all the mushy love but it's true! I loved Blitz's drive to open his own fashion line, Hearth's journey to discovering magic and Sam's struggle to balance her human life and family values. GROUP HUG.

You guys this story is more than just a story. It's a real journey that took me through the Nine Worlds. I felt like I fell through many of the branches of Yggdrasil and encountered unspeakable foes that knocked me around but ultimately led me toward an end goal. The pace never faltered, never stopped moving. Riordan brilliantly weaves Norse mythology with a wonderful modern plot, that manages to uphold the integrity of the folklore. I'm an absolute sucker for Norse mythology and I loved learning more about the gods, Yggdrasil and the way things were connected. Everything flowed so well and it all clicked.

Now there's the writing. Riordan just has this innate ability to craft sentences into flowing paragraphs that keep the pages turning. His puns, inside jokes and snark made this one of the most well-written books. Like omg "the [talking] sword had a point. (Pun not intended)" which you might think is lame but in context was just fabulous. The way he had Magnus pronounce or relate things from other worlds like our mortal stuff just made the story that much more believable (Folkvanger – Volkswagen lel). Also the gods ermagherd. They watch TV, they take training courses on presentations, they're like bag ladies. Fabulous. If I haven't convinced you to pick this up yet then you may be a lost cause.

The Sword of Summer stands as one of the best books I've read this year and one of the most entertaining books I've read in my entire life. I came out of this full of feels (yes there are feels), and very content. I felt wiser after finishing, appreciating family and life more, and also got a brush up on Norse mythology. Riordan takes us on an amazing journey, teaching us that the choices we make can fight fate, all the while cruising (speeding) through on his hilarious snark.