Firstly, thanks to Bloomsbury Sydney for this review copy <3
If you haven't checked out my interview with Lyla, you really should.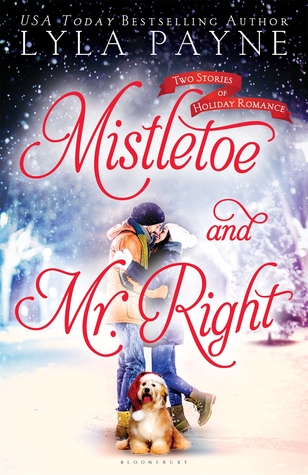 Date Read: October 19 - 20 2015
Date Released: December 1st 2015 (this edition)
Publisher: Bloomsbury Australia
Source: Review copy via publisher
Genre: Contemporary (new adult)
My Rating:
Buy Link:
Bloomsbury Australia
Synopsis:
"In "Mistletoe and Mr. Right," Jessica (not Jessie) takes a flying leap and follows her boyfriend home for the holidays for Christmas break, sure that Ireland will provide the perfect backdrop to the beginning of their happily ever after. But it turns out his family--and his gorgeous ex-girlfriend--don't feel the same way, and the only person making the trip worthwhile is the local farmhand, who has a way of showing up when Jessica needs him most . . . and least.
The holiday hijinks continue in "Sleigh Bells and Second Chances," when Jessica's best friend makes her own way across the pond! Christina Lake does not want to be away at Christmas, but it's her duty to babysit one of London's hottest bands at their last-minute concert on Christmas Eve . . . even though she had a fling with Cary, the band's lead singer, that never officially ended. Now forced to reconnect, Christina is starting to think that maybe London is exactly where she's supposed to be to get the perfect New Year's kiss--at least until she finds out that he's been lying the whole time. Can Cary find a way to prove himself before the clock strikes twelve? Or will the New Year ring in a new romance?
Lyla Payne wraps up two perfect holiday novellas, ties them with a ribbon of romance, and tops them with a light dusting of snow. Perfect to curl up with under the tree. Just add hot cocoa!"
---
I don't think I've been so pleasantly surprised by a new adult book since KB Ritchie's Kiss the Sky. I always expect the same tropes in new adult and my only hope is that the writing is good and the characters bearable. Payne exceeded all my expectations with a sweet romance that just had me feeling all the warm and fuzzies for Christmas.
Mistletoe and Mr. Right
Americal gal Jessica decides to surprise her Irish boyfriend Brennan by following him home for Christmas break. Even before she gets to his cottage in the countryside, it's like Ireland is against Jessica. Fear not though, Jessica is a tough girl and she perseveres. That's one of my favourite qualities about her. A lot of things go wrong for her in Ireland - from their food/culture, to the way people perceive her - but she doesn't let these things get her down. As someone who has been alone for a long time she knows how to take care of herself. I admired the way she kept picking herself up no matter how many times she fell. She's one of those girls that like being in control and I loved that about her. She doesn't drink because of this but as the story progressed I like the way she learnt to trust others and take risks.

In comes Grady the gruff farm hand/assistant to Brannan's family who seems to always begrudgingly come to Jessica's rescue. He's sweet and caring when he wants to be, and most of the time he's really funny. There's definitely some chemistry between the two. Ah but Brannan is Jessica's boyfriend and he's a decent guy too. What I loved about this book is that everybody felt so real. They all have flaws but they have good qualities too. Brannan and Jessica are honest people and they try remain faithful to each other no matter what.

There's also Brannan's ex-girlfriend who is actually a nice girl. She's not bitchy and she's not mean to Jessica. Katie acknowledges the decisions she's made but there's also the undeniable history between her and Brennan. Despite Katie and Jessica both being jealous of each other at times (Jessica more so), they are able to remain civil most of the time which I found to be realistic. I mean, you meet your boyfriend's ex, sure you're going to be slightly jealous if you don't know their history, but if she's genuinely nice to you then why can't you be nice back?

However, underneath all this toing and froing between these 4 lads and lasses, are secrets. Every one of them carries burdens and I loved how these unfolded with the countdown to Christmas as everybody got to know each other better. All this is set against the backdrop of the Irish countryside which Payne beautifully describes - craggy boulders, smashing waves and dark ocean. Ireland's definitely one of the places I want to visit.

Everything about Mistletoe and Mr. Right is just so sweet and cute. Great layered characters with a deeper plot, lots of Christmas cheer and snow, and the quest for true love.


Sleigh Bells and Second Chances

In Sleigh Bells and Second Chances, Jessica's best friend and sorority sister Christina ventures to England on an internship. She's event managing one of the most popular bands and won't let her fling with lead singer Cary get in her way. Although it's way obvious Christina isn't over Cary she's dedicated to her job. She's a very driven person and knows what she wants in life career-wise. While she runs around making sure the band went to all their events on time, she was also forced to face her history with Cary now that the two are face to face. She deals with things in a very mature fashion - putting her job first and trying to push her personal life away. I just love reading about people who care about their careers - it's rare in new adult books and I think we need more of this as a role model for young readers.

I absolutely fell in love with Cary! I thought I liked Grady but while he was a bit gruff Cary is the sweetest soul. He's not rude or pretentious and he never let his fame get to him. He really tries to interact with Christina and ahhhhhh FEELS because he's not like most NA guys who are troubled or feel the need to swear to show their manliness. He's like the smiling boy next door who offers to help you carry stuff, the one who will give up his hat and mittens for you in the cold and grab you hot chocolate to keep you warm. Where on earth can I find a Cary for myself?

The realistic style continues in Christina's book with her step-family. She's got issues with her father but doesn't blame her step-family for any of it. Not all stepfamilies are bad and I loved the way Christina's was portrayed. Again, they're not perfect but they're real people and I loved the way one of her stepsisters provides wisdom and support for Christina. There was this homey vibe that really added to the Christmas cheer.

More secrets though! That history between Christina and Cary I mentioned? Well something certainly happened all those years ago and shit gets real. Like epic-showdown-family-gets-involved real. It was so well done I didn't expect it and I was like PLOT TWIST and sort of mind blown.

Keeping with the Christmas theme though, Payne also takes us around London with Christina and she paints this gorgeous picture of Christmas in England what with ice skating and Christmas shopping (MY FAV). There's just this wonderful balance of dark plot with happy festive season.

Can you tell I loved these two Christmas novellas? Payne really has a knack for writing new adult and I wish there were more books like this out there - ones with characters that are all flawed and realistic, guys that are sweet rather than possessive/abusive, girls that can make mistakes and still be who they are, no cussing and to top it all off, great writing. GIVE ME A CARY NOW.



Giveaway
Now for my gift to you. I loved these novellas so much I'm giving away an e-book copy as my Christmas present to you!
The giveaway is international and the winner will receive 1 e-book of Mistletoe and Mr. Right: Two Stories of Holiday Romance on either iBooks or Amazon Kindle (the winner's choice). Sorry, I'm not sure how to gift on other e-book platforms as I don't have these :c

Winner must provide me with their email address within 48h of me emailing, to redeem the e-book.
a Rafflecopter giveaway