Firstly, thanks to Bloomsbury Australia for this review copy <3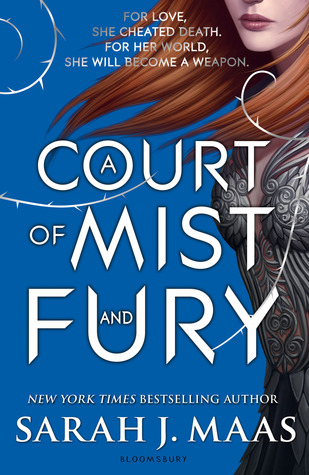 Date Read: May 3-7 2016
Date Released: May 3rd 2016
Publisher: Bloomsbury Australia
Source: Review copy via publisher
Genre: Fantasy
My Rating:
(not enough stars)
Note this review contains spoilers for A Court of Thorns and Roses but NOT A Court of Mist and Fury.
Synopsis:
"Feyre is immortal.
After rescuing her lover Tamlin from a wicked Faerie Queen, she returns to the Spring Court possessing the powers of the High Fae. But Feyre cannot forget the terrible deeds she performed to save Tamlin's people - nor the bargain she made with Rhysand, High Lord of the feared Night Court.
As Feyre is drawn ever deeper into Rhysand's dark web of politics and passion, war is looming and an evil far greater than any queen threatens to destroy everything Feyre has fought for. She must confront her past, embrace her gifts and decide her fate.
She must surrender her heart to heal a world torn in two.
"
---
"To the people who look at the stars and wish…"
It's a well-known fact that Throne of Glass is my favourite ongoing series. And if you asked me to pick a book I'd say Crown of Midnight is my fav but they keep getting better. Welps A Court of Mist and Fury has knocked ToG down to second as ACOTAR takes its place as number 1 ongoing series and ACOMAF as favourite book of all time. I'm suffering a massive book hangover after reading this. I don't give out 5 stars lightly. Even if Sarah is my fav author and I've loved all her previous books, I would never say before reading that that book will get 5/5. I give a 5 because I think a book deserves it. If I had hated ACOMAF I would have given this a 1 or a 2 regardless of how much I love Sarah. So you know when I say this is amazing, then there really aren't enough stars in the world to rate it.
This book is the most beautifully written story I've ever read. It spoke to me in every way. As an INFJ, it's deeply ingrained in me that people do the right thing. I'm an egalitarian and an idealist. I believe that people should fight for what they believe in, stand by their opinions and good things happen to good people and vice versa. ACOMAF touched on all these beliefs for me.
With the way ACOTAR ended and going into ACOMAF, I thought I knew what to expect. Because ACOTAR is a Beauty and the Beast retelling I thought I knew how this story would progress and ultimately end. Oh how wrong I was. And how glad I am of that. The book opens to Feyre back in the Spring Court and everybody is still reeling from the events Under the Mountain. Feyre most of all suffers from a very serious case of untreated PTSD. And the way Maas writes holy moly. Feyre's depression, anxiety, how she's plagued by nightmares of Amarantha – I felt it all. All her pain, anguish, despair and helplessness. The beginning was so bleak and I was honestly afraid of the internal abyss Feyre seemed to be falling into. I was afraid she'd never come back out. She's suffocating in her own skin and everybody is too busy dealing with their own nightmares to help her. I loved that she's her own person. That she refuses to bow to anyone. So she fights, driven by her fury. For herself, for what she believes in. As the book progressed and she grew even more as a person, the self-actualisation that comes to her made me so proud.
Let's get it out there – we all know this book is about Feyre's bargain with Rhys and how she spends a week every month in the Night Court. It's everything I thought it would be but so much more. It's dark and cunning, filled with people who would sooner rip each other's throats out than attempt being civilised. Horrible people who'd sell each other out even to other courts if they thought they could slither out from their High Lord's wrath. It's a court full of nightmares. It's a court of people whose dark passion makes them fight for what they believe in. Who will don a mask to protect what they love. A court of dreamers. It's beautiful and stunning, and the characters we meet have all been through so much I loved glimpses into their stories. How Maas manages to create such layered characters, introducing them to us and showing us so much in one book is beyond me. The Morrigan who's known such darkness and yet chooses to live. The mysterious Amren who despite everything, has a sense of justice. Wild and passionate Cassian. Quiet and dark Azriel who's always bathed in shadows. I loved them all. They're flawed and yet perfect in my eyes.
The romance. Holy sweet baby Jesus the romance. I suspected a love triangle but THIS? This was not at all what I expected. The High Lord of the Spring Court is not who we think he is. And the High Lord of the Night Court is full of surprises. There's the love that leads us to do things out of desperation and clouded judgement. Then there's the love that goes beyond, one of selflessness based on having experienced the unthinkable and knowing pain – a self-sacrificing love for someone else's happiness. I felt all of it in this book and I understood. The strength of emotions in this book simply floored me. Left me crying and unable to breathe because it felt like something was squeezing my chest and it was expanding and expanding and I couldn't contain all these emotions within me. A love story of fates and bonds.
Maas always has a way of writing intricate plots with many twists and turns. The first book is barely a glimpse into the whole story. We deep dive into ACOMAF and nothing is what I thought it would be. The threats are so much bigger than imagined, and nobody is who we expect. There's clashing swords, glorious fighting and ugly bloodshed. There's magic of the beginning and the end. I was happy and then I was shocked. Sad, enraged, joyous, filled with sorrow and the need for retribution.
Then the writing. Maas' writing is a prize in itself. I didn't realise how much I'd missed her elegant style until I read the first page of ACOMAF. It's her trademark way of explaining things beyond what I thought my brain could comprehend. Describing things to me in a new light, emotions slamming into me full force. Her poetic dialogue and ability to write a different voice for each character filled me with awe.
I thought the world-building and imagery in ACOTAR was amazing. I thought the Spring Court was beautiful. How mistaken I was. How… narrow and naïve my tiny human brain. Because there is a world out there. And it makes the constant budding spring stifling. The flowers are cloying after a while, the shining manor an empty façade just to look at, the pretty dresses limiting one from movement. Out there is a Prythian with the briny sea and ocean breeze, snow-capped mountains with the fresh scent of pine. Maas flies us through Prythian and opens our eyes to a world beyond.
My heart was thrown open to a people who have suffered, endured so much pain, been tortured and tormented, all for their dreams to keep on living. ACOMAF was a song to my soul that sang to me
see Jaz, see what you could do if you dream big. If you reached for the stars, this is what your dreams could be – you could rattle the stars. But only if you're willing to fight for it
.
"To the stars who listen – and the dreams that are answered."