HAPPY 2017 LOVELIES. I for one am not sorry to kick 2016 out the door and shut it for good!
I'm a tad late to the annual End of Year Book Survey created by
Jamie at The Perpetual Page Turner
but it's a tradition soooo... I'm not even going to ramble like I do, let's just get into it!
Image CR: http://www.perpetualpageturner.com/

2016 Reading Stats
Number of Books You Read:
76
Number of Re-Reads:
0 (I don't re-read lel)
Genre You Read The Most From:
fantasy (of course!)
Best in Books

1. Best book you read in 2016?
But also...
YA:
The Rose and the Dagger
(The Wrath and the Dawn #2) by Renee Ahdieh
Adult:
It Ends with Us
by Colleen Hoover - wow this was tumultuous and emotional but beautiful and heartbreaking. Abuse trigger warnings but a wonderful read.
2. Book you were excited about and thought you were going to love more but didn't?
A Gathering of Shadows
(Shades of Magic #2) by VE Schwab - don't get me wrong I love V's books and her writing is fantastic but Lila Bard in AGOS just didn't cut it for me :(
3. Most surprising (in a good way or bad way) book you read?
A Court of Mist and Fury
- I never expected the direction Sarah would take with ACOMAF and it pleased me SO. DAMN. MUCH.

4. Book you "pushed" the most people to read (and they did)?
Sleeping Giants
by Sylvain Neuvel - a brilliant sci-fi debut I think I pushed this on like 20 people and I know at least 7-10 went out and bought it :D
5. Best...
Series you started in 2016?
Nevernight
(The Nevernight Chronicle #1) by Jay Kristoff
Series ender of 2016?
The Rose and the Dagger
by Renee Ahdieh was THE perfect ending to The Wrath and the Dawn.
Crooked Kingdom
(Six of Crows of #2) by Leigh Bardugo left me in tatters. Don't make me choose. DON'T.
6. Favorite new author you discovered in 2016?
Nicola Yoon! I finally read
Everything, Everything
and fell in love.
The Sun is Also a Star
is wonderful.
7. Best book from a genre you don't typically read/was out of your comfort zone?
Dark Matter
by Blake Crouch had a horror tag on Goodreads which it sort of was but wasn't (more thriller sci-fi) but I loved it so much and I hate horror.
8. Most action-packed/thrilling/unputdownable book of the year?
Gemina
(The Illuminae Files #2) by Amie Kaufman and Jay Kristoff - this sequel was even better than Illuminae! I sat down with this for 5h and COULD NOT STOP. Amazing. Thrilling. All the action at every page.
9. Book you read in 2016 that you are most likely to re-read next year?
I don't re-read books but I would definitely re-read my favourite bits of ACOMAF :D
10. Favorite cover of a book you read in 2016?
Passenger
by Alexandra Bracken - it's saaaahhhhh pretty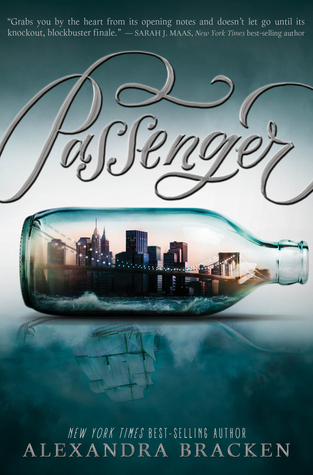 11. Most memorable character of 2016?
Inej Ghafa
- Six of Crows/Crooked Kingdom duology because THIS. GIRL.
Read my post on why you should read the duology here.

12. Most beautifully written book read in 2016?
The Star-Touched Queen
by Roshani Chokshi - oh my lordy the writing is STUNNING. Intricate and detailed, very different, lovely and you should
read my gushing review here
.
13. Most thought-provoking/life-changing book of 2016?
Me Before You
by Jojo Moyes - this book had no right and wrong. It made the reader question what it means to have choice, to really live. I cried so hard it was beautiful.

14. Book you can't believe you waited UNTIL 2016 to finally read?
Ready Player One
by Ernest Cline - as a gamer I feel ashamed I didn't pick this up until this year. It came out 5 years ago and speaks to every gamer's heart.
15. Favorite passage/quote from a book you read in 2016?
"To the stars who listen— and the dreams that are answered."
16. Shortest and longest book you read in 2016?
Shortest:
The Crown and the Arrow
by Renee Ahdieh - 9 pages, The Wrath and the Dawn short story
Longest: according to Goodreads Empire of Storms by Sarah J. Maas - 693 pages buuuut...
The Way of Kings
(part 1 and
2
) by Brandon Sanderson - 1122 pages total I read the split versions
17. Book that shocked you the most
The Fifth Season
(The Broken Earth #1) by NK Jemisin - this book was so intriguing (it intrigues me still, I can't wait to read the sequel), every turn a surprise!

18. OTP OF THE YEAR (you will go down with this ship!)
FEYRHYS
(ACOMAF)
19. Favorite non-romantic relationship of the year
The friendship between
Emmy, Caro and Drew
in
Emmy & Oliver
by Robin Benway - SQUAD GOALS
20. Favorite book you read in 2016 from an author you've read previously
ACOMAF.
..?
21. Best book you read in 2016 that you read based SOLELY on a recommendation from somebody else/peer pressure:
Sleeping Giants
by Sylvain Neuvel - I saw Crini raving about this (and her posts on the cover). I LOVE THIS BOOK.

22. Newest fictional crush from a book you read in 2016?
Amar
-
The Star-Touched Queen
*bites lip*

23. Best 2016 debut you read?
SLEEPING GIANTS
BY SYLVAIN NEUVEL OMG
24. Best worldbuilding/most vivid setting you read this year?
Ommgggggg
ACOMAF
because THE NIGHT COURT. A court of dreamers *sobbing*

25. Book that put a smile on your face/was the most FUN to read?
PS I Like You
by Kasie West - her contemporaries are serious yet cute and so sweet.
26. Book that made you cry or nearly cry in 2016?
I fucking cried my eyes out in
Crooked Kingdom

27. Hidden gem of the year?
I'm not sure you heard me the first time
SLEEPING GIANT
S BY SYLVAIN NEUVEL.
28. Book that crushed your soul?
Crooked Kingdom
FML
29. Most unique book you read in 2016?
Gemina
because there really is no other like it.
30. Book that made you the most mad (doesn't necessarily mean you didn't like it)?
There we have it folks my year in books. Basically ACOMAF flailing right hahaha.