Firstly, thanks to Hachette Australia for this review copy <3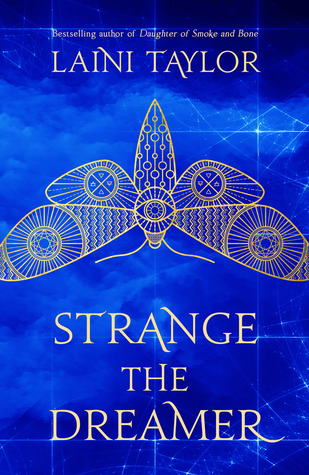 Date Read: February 11 - 26 2017
Date Released: March 28th 2017
Publisher: Hodder & Stoughton
Source: Review copy via publisher
Genre: Fantasy
My Rating:
Synopsis:
"The dream chooses the dreamer, not the other way around - and Lazlo Strange, war orphan and junior librarian, has always feared that his dream chose poorly. Since he was five years old he's been obsessed with the mythic lost city of Weep, but it would take someone bolder than he to cross half the world in search of it. Then a stunning opportunity presents itself, in the person of a hero called the Godslayer and a band of legendary warriors, and he has to seize his chance to lose his dream forever.

What happened in Weep two hundred years ago to cut it off from the rest of the world? What exactly did the Godslayer slay that went by the name of god? And what is the mysterious problem he now seeks help in solving?

The answers await in Weep, but so do more mysteries - including the blue-skinned goddess who appears in Lazlo's dreams. How did he dream her before he knew she existed? And if all the gods are dead, why does she seem so real?

In this sweeping and breathtaking new novel by National Book Award finalist Laini Taylor, author of the New York Times bestselling Daughter of Smoke & Bone trilogy, the shadow of the past is as real as the ghosts who haunt the citadel of murdered gods. Fall into a mythical world of dread and wonder, moths and nightmares, love and carnage."
---

In typical Laini fashion, Strange the Dreamer made my heart ache with its lyrical writing and phenomenal plot.

The story is told in third person from two main perspectives, our dreamer Lazlo Strange and our girl Sarai. Though they may seem different on the outside, on the inside they're both idealists.

I really loved Lazlo's gentle and dreamy perspective. There aren't many guys like that in the books I've read so I appreciate a genuinely nice guy who's shy, kind and thoughtful. He's always got his head stuck in a book, and fairytales and fantasies at that. I found him perceptive in his own way, noticing the little things that only someone who stands on the sidelines can see. All his hours reading books pay off though and his knowledge may not be in alchemy, but myths and fairytales stem from some truth. People underestimate him because he's kind, considerate and quiet. But screw them because this is a guy who sees beyond and thinks outside the box – here's a dreamer that's the hope for a lost city. Lazlo is just the sweetest guy and you can't help but immediately root for him.

The story then breaks to the perspective of a girl in a citadel and I was sort of like nooooo I want more Lazlo. Of course, then I instantly fell in love with Sarai and her life up there. Her character and person is so beautiful. She's so conflicted because while she is meant to hate her supposed enemies, her gift has allowed her to see what her people have done to them and she can't help but understand their hate. She can't help but feel compassion towards them as she battles her need to hate what they did to her people. Sarai is so kind and sweet with a strong moral compass – I really want to be her friend!

Each of the secondary characters have their own story and I was especially fascinated by the few others in the citadel with Sarai, and the citizens of Weep who Lazlo became familiar with. The Godslayer and Azareen have their own back story which I can't wait to see more of. There's also Minya who creeps the hell out of me, she's this little girl but she's not and I'm like omg this one is scary.

When Lazlo and Sarai meet there's this lovely purity to it. Here are two people who have suffered in their own ways but are filled with light. It's the stuff of dreams (literally), with endless possibilities and anything can happen. Including the growing hope of a possible harmony between two races that have caused carnage and done unspeakable things to each other. There's something so epic about these two and every moment they have together is hard won and precious. I loved the innocence to the way these two interacted. They're both kind of naïve in the way of romance but there's no denying their connection – they share the same ideals, always giving others the benefit of the doubt and treating them with kindness. Lazlo and Sarai shone so brightly for me and yet I felt like they were standing on a precipice and everything could fall.

The mystery of Weep immediately drew me in and I can tell Taylor barely scraped off the top layer in terms of revelations in this book. There's so much going on what with supposed gods (Godslayer had to slay something godly right?), floating citadels, metals with unknown composition and lost memories. While it's a completely different world, I couldn't help but draw similarities with the DoSaB trilogy in terms of themes and characterization. For fear of spoilers I won't say anymore about the plot, only that it twists and turns and punches you in the feels. Not once but multiple times. I came out of this with a bruised yet hopeful heart.

While I found Strange the Dreamer to be slow in pace, I can't deny Laini's writing is as gorgeous as always. Her style just keeps you wanting more. Her way with words is stunning. Everything is altogether more bright and glowing, the world around us vivid and vibrant. Everything is also more devastating, the bloodshed more tragic, the strength of each emotion multiplied tenfold. Your eyes take in the writing, your brain processes the words and it's a jolt to each neuron as your heart feels like it's exploding.

Laini Taylor has cemented as a master of fantasy, a queen with words and uniquely epic tales filled with hope and lovely characters. I can't wait for Muse of Nightmares!