Firstly, thanks to Pan Macmillan Australia for this review copy <3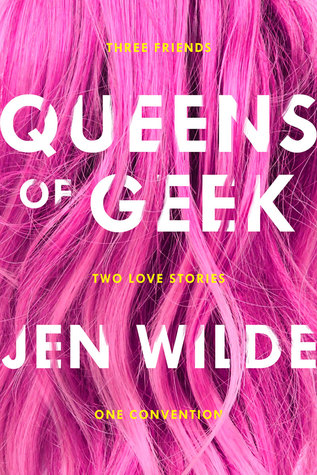 Date Read: April 17 - 21 2017
Date Released: May 1st 2017
Publisher: Swoon Reads
Source: Review copy via publisher
Genre: Contemporary
My Rating:
Synopsis:
"When BFFs Charlie, Taylor and Jamie go to SupaCon, they know it's going to be a blast. What they don't expect is for it to change their lives forever.
Charlie likes to stand out. SupaCon is her chance to show fans she's over her public breakup with co-star, Reese Ryan. When Alyssa Huntington arrives as a surprise guest, it seems Charlie's long-time crush on her isn't as one-sided as she thought.

While Charlie dodges questions about her personal life, Taylor starts asking questions about her own.

Taylor likes to blend in. Her brain is wired differently, making her fear change. And there's one thing in her life she knows will never change: her friendship with Jamie—no matter how much she may secretly want it to. But when she hears about the Queen Firestone SupaFan Contest, she starts to rethink her rules on playing it safe."
---
With a diverse cast and great representation, Queens of Geek is a heartwarming Aussie YA that speaks to the fangirl/boy in all of us.
I found it so refreshing the way Wilde told the story through two different perspectives – Charlie and Taylor who are best friends but have basically opposite personality traits. Charlie presents the con from a celebrity POV. A famous YouTuber turned movie star she's quite outgoing and very sure of herself. I like that she didn't let the fame get to her and she was so nice to all her fans. On the inside though, Charlie's still struggling through a breakup that really tore her up. Her feelings are a mess and it's clear her ex was manipulating her. I liked her journey to self-actualisation throughout the book, coming to terms with who she is, accepting herself after her messed up relationship made her doubt herself and really understanding what she wants. In the other perspective we have introvert Taylor who suffers from anxiety. Through Taylor we can relate to the long lines and waiting to meet our idols. Her apprehension at being in such a large crowd, the thrill and adrenaline of being with likeminded people – I lived it. Then there was her anxiety which Wilde wrote so well – the sudden overwhelming emotions, the panic out of nowhere. For Taylor, the con was about stepping out of her comfort zone to go for what she really wanted.
The two main secondary characters – Jamie and Alyssa – were great. Jamie's a bit of a geek and I liked that he didn't trying his suppress his fanboying. Bonding with Taylor over a favourite book series, he's a genuinely nice guy but not perfect. Then there's Alyssa, a really famous YouTuber who is honestly such a sweetheart. I adored her kind and cheerful demeanour. Just like Charlie, she didn't let the fame get to her and she was so appreciative of her fans, knowing she wouldn't be where she is without them.
I guess the romance is where this book faltered slightly for me. There's two love stories going on at the same time here. One is really slow burn which I love; there's lots of flirting disguised as friendly banter. The tension is cute and I just wanted them to get together. On the other hand, the other romance was insta-love to me. I loved each person individually, and I definitely wanted them to get together but it was just a bit too quick for my liking. Everything was happening in leaps and bounds, from the first meeting to flirting and touching and feelings and I was like wow ok slow down it's been 3 days.
Plot wise, the story is set in the con and centres around Charlie and Taylor making their way through the weekend at SupaCon (San Diego Comic Con anybody?) discovering themselves. Wilde's writing is fresh and easy to read, I was drawn into the story immediately. My favourite aspect of this book is that it's not only Aussie YA, but it's so diverse. Taylor has anxiety, Charlie is Australian Chinese and bisexual. Like omg can it get any more perfect? For ONCE a Chinese MC that's 'normal'. She doesn't have a Chinese name as her English name, she's not going to uni to be an accountant or doctor or lawyer – none of the stereotypical Chinese stuff I'm so sick of when authors attempt diversity. If Wilde didn't mention Charlie's Chinese I wouldn't have known and I could relate because I'm Australian born Chinese. I have an Anglicised name, I like Chinese food but that's not all I eat, I really suck at maths. To be properly represented is an amazing feeling. I'm not bi so I can't speak for the rep but it felt real reading it, and I've heard this was done right from various bi friends. From what I read, Jamie and Alyssa aren't white either – based on Jamie's last name he sounds Latino/Filo and Alyssa is black? It's just wonderful having a non- full white cast but everybody bonds over their fandom.
Queens of Geek is a fun, refreshing read filled with all things geeky that you'd find at a convention. The diversity representation is wonderful and heartwarming.