Firstly, thanks to Harper Voyager Australia for this review copy <3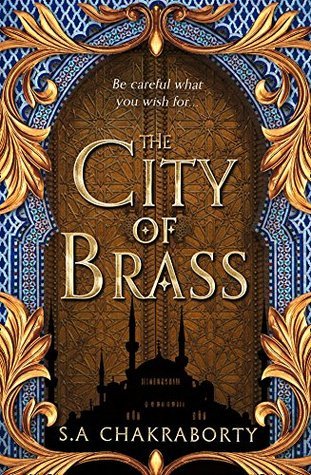 Date Read: January 31 - February 17 2018
Date Released: January 22nd 2018
Publisher: Harper Voyager Australia
Source: Review copy via publisher
Genre: Fantasy
My Rating:
Synopsis:
"Nahri has never believed in magic. Certainly, she has power; on the streets of 18th century Cairo, she's a con woman of unsurpassed talent. But she knows better than anyone that the trade she uses to get by—palm readings, zars, healings—are all tricks, sleights of hand, learned skills; a means to the delightful end of swindling Ottoman nobles.

But when Nahri accidentally summons an equally sly, darkly mysterious djinn warrior to her side during one of her cons, she's forced to accept that the magical world she thought only existed in childhood stories is real. For the warrior tells her a new tale: across hot, windswept sands teeming with creatures of fire, and rivers where the mythical marid sleep; past ruins of once-magnificent human metropolises, and mountains where the circling hawks are not what they seem, lies Daevabad, the legendary city of brass?a city to which Nahri is irrevocably bound.

In that city, behind gilded brass walls laced with enchantments, behind the six gates of the six djinn tribes, old resentments are simmering. And when Nahri decides to enter this world, she learns that true power is fierce and brutal. That magic cannot shield her from the dangerous web of court politics. That even the cleverest of schemes can have deadly consequences.

After all, there is a reason they say be careful what you wish for..."
---

If you told me The City of Brass was Chakraborty's debut, I wouldn't have believed you. Set in a wonderfully built world, with gorgeous writing and complex characters, it was easy to fall into the world of 18th century Cairo and be transported to Daevabad.

I adored our protagonist Nahri. Bred on the streets of Cairo with no family whatsoever, she's learnt to fend for herself. Cunning, at times sly and fully independent, she's a rare sight in a world that expects her to be married. I loved her quick thinking and ability to leverage every situation so it turned in her favour. She's untrusting and rightly so given her upbringing. I thought this was balanced nicely with her ability to heal – she could have been taken advantage of easily because of her powers but she doesn't let that happen. Nahri is put in a lot of difficult situations and pushed to her limits but she's so determined and when she puts her mind to something, she succeeds.

The book switches perspectives between Nahri and Prince Ali (wow I just started humming that song from Aladdin) and while I liked his character I can't say I particularly cared too much for his chapters. Especially during the beginning and middle, Nahri's and Ali's chapters alternate and I just really wanted more of Nahri. I can understand why Chakraborty did this though because Ali's character is basically the opposite of Nahri's. Where Nahri's ways can be morally questionable, Ali is all about morals. He's very devout to his religion and lives in a world of black and white… at least in the beginning. Ali is so sheltered that when his dad and brother think it time to expose him to the world, it's not surprising how confronting reality is to him. His once black and white world is suddenly harder to navigate as he learns there is no single right or wrong. I really did love his character growth. He learns to overcome his prejudices, his preconceived notions of people and the way the world works. His is a journey of politically and morally questionable choices that would leave anybody mega confused and conflicted by the end.

All the secondary characters are important and memorable. I loved reading their interactions with each other, with Nahri and Ali. I especially loved the dynamic between Ali and his brother the Emir, Muntadhir. There is so much love there which I find refreshing and rare in books with two brothers next in line for the throne. There's also the sweet Jamshid which I have many THOUGHTS about but shall leave unsaid for reasons.

The romance though, am I here for that. I only wish there was more. I know that wasn't the focus of the novel but boy does Chakraborty know how to keep a shipper on the edge of her toes. It made all the rare moments more precious and cherished. Honestly, THE ANGST. Like just get together already ya know? I still have hope after that ending though and will wait to see what the sequels bring.

My issue with The City of Brass was the pacing. It was immeasurably slow. The beginning starts off great, with high speed chases and magic carpet rides (YES MAGIC CARPET RIDES but we'll get to that later). There's flashy magic and it's wonderful but then it starts to draaaaag. And drag. The middle consists of a heap of… political stuff happening? In excess too. To the point where I kind of lost the plot and didn't really know where the story was going or if it was going anywhere. I lost the bigger picture. Was it about rebellion and Daevabad's history, was it about Nahri's heritage, was it about Dara's history? But then the ending comes at me in a rush and it all comes back together again. There's a lot of secrets going on what with the current royal family, all the history of the different characters (DARA ERMAGHERD) and the unrest in the city. Chakraborty reconnects everything for one helluva killer ending and it all makes sense again! I just wish it had been spaced out better.

Let's talking about the world building though. Weeeooooow was it imaginative and lush. From 18th century Cairo to sudden magic I was immediately immersed in this world. There are magic carpet rides (YOU CAN SCREAM NOW), enchanted tea, cursed lakes and mythical creatures throughout. Then there's Daevabad with its upside-down waterfalls and magic where you least expect it. Can we also talk about the food? *Drools* My goodness does Chakraborty know how to make me drool. I want to eat everything described in this book. The desserts and the wine and the platters of rice and dishes full of flavour and spices. I literally just had dinner but thinking about the food in The City of Brass has my second stomach growling.

None of these complex characters or beautiful world would have worked without Chakraborty's lovely writing. Her style is sophisticated and her flowery prose is right up my alley (again I say FOOOOD). She doesn't overdo it, putting in just the right amount of descriptions to make me really see/feel/hear/smell the wonderful City of Brass.

Complex characters, thoughtfully and thoroughly built world, my only gripe was the pacing which was a major setback for me. Overall, The City of Brass is a strong debut from Chakraborty and I'm eager to see where the Daevabad trilogy goes.