This review contains spoilers for the book. If you don't want spoilers then don't read this review!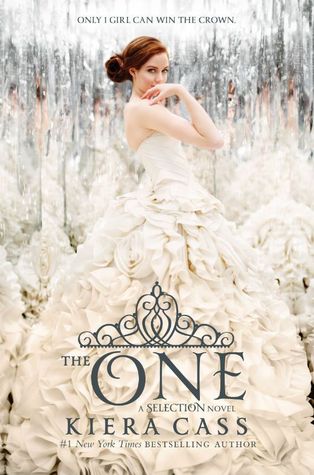 Date Read: May 6 - 7 2014
Release Date: May 6th 2014
Publisher: HarperCollins Australia
Source: Bought
Genre: Really Fluffy Dystopian
My rating:
Synopsis:
"The Selection changed the lives of thirty-five girls forever. And now, the time has come for one winner to be chosen.

America never dreamed she would find herself anywhere close to the crown—or to Prince Maxon's heart. But as the competition approaches its end and the threats outside the palace walls grow more vicious, America realizes just how much she stands to lose—and how hard she'll have to fight for the future she wants.

From the very first page of The Selection, this #1 New York Times bestselling series has captured readers' hearts and swept them away on a captivating journey... Now, in The One, Kiera Cass delivers a satisfying and unforgettable conclusion that will keep readers sighing over this electrifying fairy-tale long after the final page is turned."
---
Be prepared for a FULL spoiler review of The One. If you haven't read the books, then STOP NOW. Or if you can't be bothered reading them or The One and, like many, just want to know who America ends up with then please continue.
I didn't receive The One as a review copy but I'm reviewing it anyway because I reviewed/ranted about the first two and my OCD won't let me rest until I get this one out too.
Let me be clear that I don't like this series. I can't believe I wasted nearly 2 years of my life on these books. Like many, I was hooked in by the gorgeous cover for The Selection. Luckily, these books are all extremely quick reads otherwise I would have just dropped the series and asked somebody who she ends up with.
Oh yeah she ends up with Maxon THANK GOD. At least Cass had America end up with the right guy. She got one thing right.
Anyway I actually enjoyed The Selection way back when, you can find my review
here
. It was a quick read, very light and fluffy and not at all like a dystopian. That's where it all went downhill because The Elite was a travesty. One of the most horrible books I've ever read, you can see my raging review
here
.
The One isn't much better. America has practically no character growth. She's always impulsive, can't keep her mouth shut and crosses that line between bravery and stupidity. Near the middle she realises that she's a potential princess and can boss people around… that was the extent of her character growth. What I really, really hated was her constant inner battle between Aspen or Maxon. THREE BOOKS. THREE BOOKS THIS HAS GONE ON FOR AND SHE COULDN'T MAKE UP HER DARN MIND.
Basically, her thought processes ran something similar to this:
"Oh Maxon is giving the other girls attention, I am so jealous, I really do like him"
"Aspen is here ohmygod he's so hot I love him"
"Maxon is so sweet and I want him to kiss me"
"But Aspen might be looking what do I do?"
Seriously, the whole book.
The series also never got deep enough for me to take the political stuff seriously. Everything was all on the surface, even when rebels were introduced as a real threat. It happened in a rush; the Northern rebels apparently want to help the monarchy while the Southern rebels apparently just want power and are the real threat. Southern rebels come in and shoot everybody, Northern rebels save the day because, woah with just TWO short talks with Maxon and America, both parties are suddenly chummy and on-board with each other! America even runs to hug the Northern rebel female leader. Jesus Christ you could see the rainbows come out and flowers spring up in all the friendliness.
By the end the only thing that's achieved is the removal of the caste system. Because really, what else could have fit when there really was no depth to the story? And even then, there is only talk of this… It doesn't actually happen. Have no idea how Maxon is going to achieve this.
Oh and the ending was just so bloody convenient. Of course the king and queen get killed off so that Maxon can ascend to the throne and bring on his little revolution. Pfft yeah… Story ends with America walking down the aisle AND WE DON'T EVEN GET AN EPILOGUE. What happened to Aspen you ask? He ended up with Lucy because apparently they fell in love (so convenient) but I mean I guess that's plausible because she was always such a damsel-in-distress.
How did this book get 3 stars again? I don't know. It's more a 2.5 but I liked the ending because Maxon is SO SWEET. He writes these beautiful letters to America when she isn't present and I'll admit my heart did race reading them. Maybe I gave this 3 because I also adore that cover. Meh.
It's finally over.