Rites of Passage by Joy N. Hensley is one of my favourite debuts this year! To show my love I've become part of the street team, known as The Cadre and we did a read-along over the past month. This is the final week and we've just finished!
Recruits we've made it! We are officially cadets :D The theme for this week is Goodnight Saigon and to learn more about the significance of this, head over to Joy's blog
(here)
to read her post on this.
If you loved RITES as well and haven't joined the street team yet then what are you waiting for? Sign up
here
A little bit about the book and the author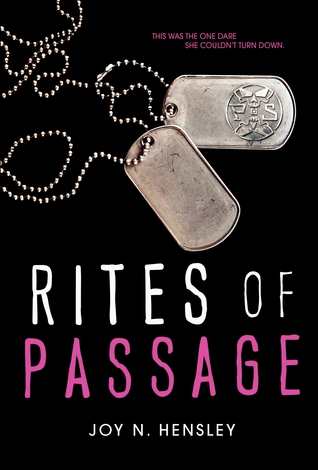 Synopsis:
"Sam McKenna's never turned down a dare. And she's not going to start with the last one her brother gave her before he died.

So Sam joins the first-ever class of girls at the prestigious Denmark Military Academy. She's expecting push-ups and long runs, rope climbing and mud-crawling. As a military brat, she can handle an obstacle course just as well as the boys. She's even expecting the hostility she gets from some of the cadets who don't think girls belong there. What she's not expecting is her fiery attraction to her drill sergeant. But dating is strictly forbidden and Sam won't risk her future, or the dare, on something so petty...no matter how much she wants him.

As Sam struggles to prove herself, she discovers that some of the boys don't just want her gone—they will stop at nothing to drive her out. When their petty threats turn to brutal hazing, bleeding into every corner of her life, she realizes they are not acting alone. A decades-old secret society is alive and active… and determined to force her out.
At any cost.

Now time's running short. Sam must decide who she can trust...and choosing the wrong person could have deadly consequences."
For my full thoughts on the book, you can read my discussion review with Mel from YA Midnight Reads
here
About Joy N. Hensley
Joy N. Hensley is a former middle school teacher. She used to spend her twenty-minute lunch breaks hosting author Skype chats for her students. Once upon a time she went to a military school on a dare. She lives in Virginia with her husband and two children, finding as many ways as she can to never do another push-up again.
Find her at the following places:
Fancast and Character Profiles
My post today will be a fancast! Hehe you guys should know I love doing fancasts and I thought it'd be perfect as we've now met all the characters and are familiar with their personalities. As with my previous fancasts, I choose not only actresses/actors that I think physically match the appearance from the book, but also people who I think embody the character's personalities and who I can picture playing the role perfectly.
An additional aim for this fancast was for the actors/actresses to be in their teens/early 20s so they would really be like the characters from the book who are only 16/17. This was SO hard but I tried my best to look for young/young looking people!
Samantha (Sam/Mac) McKenna - Kaya Scodelario
Our protagonist is strong-willed, loves a dare and is loyal person. Raised in a military family she sticks to the rules but also knows how to have fun. I loved Kaya in Skins (UK) and I think she's a really great actress overall. She's tough and I can see her as a military recruit - also I know she was recently in The Maze Runner but have not seen this so idk ;o
Drill Sergeant Stamm - Alexander Ludwig
Teehee Drill <3 Drill is like. Well I don't know how to put him into words. Not really one for words unless issuing commands, he's fair and a genuinely good person. He doesn't discriminate and sees Sam's potential (and more kekeke). He can also be really sweet underneath the drill sergeant exterior and he really cares about Sam <3 Blonde hair, blue eyed and hotttttt. Alexander Ludwig (oh hello) who played Cato in The Hunger Games I think would be a really good drill! He's got a strong jaw ;) but more importantly as Cato I could see Alexander as a tough guy, but I think he can play the caring one too!
Kelly - Cameron Monaghan
Kelly is the happy one in my opinion. He's quite optimistic, a bit of a joker and smiley. I sort of thought of Mason from VA when I was reading him sooo... hence Cameron Monaghan lol! As we clearly from VA, Cameron can fight and as Kelly is one of the best recruits, this fit perfectly. Kelly is also described as having light brown hair, freckles and teal eyes. Cameron is close enough right? :p
Bekah Cross - Peyton List
Bekah is described as being blonde and like a super model. First impressions have her as being almost delicate and yet she's pretty resilient. Peyton has that delicate look about her but I think she could also be a good recruit. SHE'S SO PRETTY.
Katie Quinn - Chloe Grace Moretz
Katie is a bit of a weak link and she cries a lot... I wasn't a huge fan of her but she's a good person. Described as tiny I thought Chloe Grace Moretz would be perfect. From Kick-Ass to 500 Days of Summer to If I Stay, Chloe is an absolutely fantastic actress who pulls off any role and I could really see her playing Katie.
Short - Emma Roberts
Short's described by Sam in the beginning as being the only one of the few girl recruits at the DMA who looks like she could hold her own. She's got short brown hair, and is quite well built. Not much else is known about her but I thought it was important to cast her anyway as she's part of the first intake of females at the DMA. Emma Roberts jumped to mind for some reason and I think it's because Emma is able to throw herself into any role and really show emotions very well - Wild Child, Valentine's Day, We're the Millers, she's got this! Emma has also naturally has brown hair so maybe that's why I thought of her? O_O
---
So what are your thoughts? Who did you guys have in mind for the characters? What did you think of mine?
Spreading the book love, IT'S GIVEAWAY TIME. Yes I'm giving a hardback copy of RITES OF PASSAGE. This is open internationally as long as The Book Depository ships to your country!
a Rafflecopter giveaway