Firstly, thanks to HarperCollins Australia for this review copy <3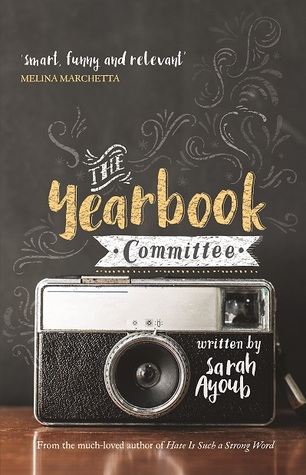 Date Read: February 22-24 2016
Date Released: March 1st 2016
Publisher: HarperCollins Australia
Source: Review copy via publisher
Genre: Contemporary (AUSSIE YA YES #LoveOzYA)
My Rating:
Synopsis:
"Five teenagers. Five lives. One final year.

The school captain: Ryan has it all … or at least he did, until an accident snatched his dreams away. How will he rebuild his life and what does the future hold for him now?

The newcomer: Charlie's just moved interstate and she's determined not to fit in. She's just biding her time until Year 12 is over and she can head back to her real life and her real friends …

The loner: At school, nobody really notices Matty. But at home, Matty is everything. He's been single-handedly holding things together since his mum's breakdown, and he's never felt so alone.

The popular girl: Well, the popular girl's best friend … cool by association. Tammi's always bowed to peer pressure, but when the expectations become too much to handle, will she finally stand up for herself?

The politician's daughter: Gillian's dad is one of the most recognisable people in the state and she's learning the hard way that life in the spotlight comes at a very heavy price.

Five unlikely teammates thrust together against their will. Can they find a way to make their final year a memorable one or will their differences tear their world apart?"
---

I remember someone once saying on Twitter how Aussie books are much more character driven than US books which are more plot driven. Melina Marchetta definitely comes to mind and I realise it's the character driven books I love best. After reading The Yearbook Committee I can definitely say the characters have stuck with me.

What do you get when you combine a school captain who used to be star of the soccer team, a politician's daughter who's overly enthusiastic, an opinionated girl who hates Sydney, the popular girl's best friend, a scholarship student from a poor background, and shove them onto the Yearbook Committee? Unwillingness to cooperate and absolute chaos that's what. It's bloody brilliant.

The first character we're introduced to is Charlie who's moved to Sydney from Melbourne and basically hates the move and anything in Sydney. I really disliked Charlie in the beginning because she felt the need to give a negative opinion on EVERYTHING. She seemed so ingrained in her beliefs and it was like everybody else should share those beliefs or they were wrong. And she felt the need to express her ideals at every possible moment, even when it wasn't right for the situation. On the flip side I liked that she stood her ground and didn't let anybody shutdown her feminist views. She definitely thaws and becomes easier to be around with as the book progresses. I liked that she has her moments of weakness and it's obvious she's a teenage girl too who has crushes and occasionally wants to drop the tough act.

Gillian was an interesting one. She was way too enthusiastic for my liking and tried so hard to please everyone. And I think because she tries so hard is one of the reasons why people treat her as a doormat. She won't get angry at anything anybody does to her because she wants them to like her. But this girl has such a big heart. Despite the bullying she receives from her classmates and her horrible mother who gives her hell about her weight, and a father who cares more about his votes than his own daughter, she always has a smile on her face. Gill was the one who everybody in TYC came to like and could get along with.

For once a golden boy who is actually a good guy! The school captain Ryan is a genuinely nice guy and it was no wonder he got voted in as school captain. Not just because he's good at soccer but because he cares about his role. He took being the school captain seriously, ensuring students did the right thing and being friendly to everyone. He also takes the yearbook seriously too because the principal gave him the responsibility. If Gill was the glue that kept everyone together, Ryan was the driving force behind it all. He's the type of guy who's like "I don't care what shit is between you guys, you are going to get this done." Love people like that! And Ryan isn't without his own troubles. He struggles with a future where the one dream he was set on has crumbled. It was refreshing to see this because most high schoolers are the reverse – their future looks so uncertain because they don't know what to do with their lives, but there's endless possibilities.

One of my favourite characters was definitely Tammi. I found that she had the most growth throughout the book (these tend to be my favs). She starts off as the best friend to the popular girl who silently stands around as her best friend gets whatever she wants and does whatever she wants. Tammi matures though and quickly realises her best friend isn't as perfect as she thinks. My favourite part about Tammi is that, no matter what her boyfriend says, she won't let herself be pressured into sex. I think it's becoming more and more a common thing in high schools these days and for Tammi to care about her body and not give in is awesome. Ladies (and gentlemen), reminder that you shouldn't do something because somebody else tells you to. No matter what it seems like, it's not a race. Don't EVER let anybody pressure you into sex (or anything really). Do it because you want to when you're ready. If he/she won't wait for you, they're not worth it.

Then my favourite who probably comes in just a little in front of Tammi, is Matty. I just wanted to hug this boy, hoodie and all. I like them smart and broody. Kid won an academic scholarship into a Catholic school! And beneath the hoodie, he's actually sweet and caring ahhh love love LOVE. Poor guy is working two jobs to support himself and his mum who's had some kind of breakdown and is obviously suffering from mental illness. He's tough but he's also coming apart at the seams. It was wonderful having him as a character as a fresh lens on the rich kids at Holy Family.

We've also got a great cast of secondary characters. There's the other students at Holy Family, the teachers who are definitely questionable, and this really awesome principal. Ayoub brings in diversity through the families and friends of our MCs such as Gillian's brother, and Matty's best friend who I adored. Mo doesn't bag Matty out for being smart and winning a scholarship, but actually supports and respects him. There are so many more characters but you'll just have to discover them yourself. It's these guys who make the main characters really shine and add depth to the story.

All of this is set against the backdrop of Sydney's inner-west and ERMAGHERD you guys this is my fav part of reading. I haven't read a book where I had "a sense of place" (as Melina Marchetta put it at the launch) since Melina's own books. It feels so good to read a book and know where Burwood Westfield is, to be able to picture Burwood Park, to crave El Jannah (chargrilled chicken with this amazing garlic sauce they make), to think back to my own lunch at Burger Project a few weeks ago. Just like the characters in TYC, I walked the streets of this book. And it felt like coming home. This book felt like home to me. Ayoub does the setting so freaking well it was like a character of its own.

Then we have all the issues this book tackled. Through the diverse characters we're able to see bullying, the differences in socioeconomic background prevalent in Sydney, mental illness, disability, peer pressure for everything you can possibly think of, the pressure to do well in the HSC and what happens after, and what I believe is a growing problem in NSW's education system – the qualifications of teachers.

All of these very relevant themes are beautifully interwoven through our five MCs into an ending that reminds you this is reality. I can't get over the amazing characterisation; freaking top notch. Each one of these characters have left a lasting impression. The Yearbook Committee became so much more than getting a yearbook out on deadline. Ayoub managed to encompass all the moments of Sydney high school life into 320 pages – the tears, the joy, the friendships and everything in between. EVERYBODY GO READ THIS OMG.