Firstly, thanks to Allen & Unwin for this review copy <3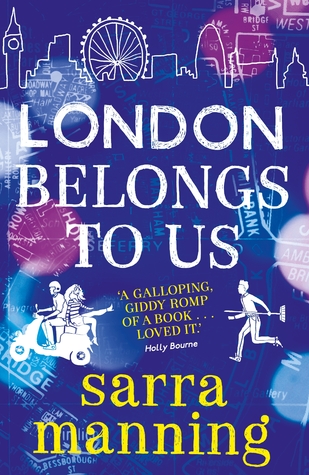 Date Read: July 25 - 30 2016
Date Released: June 2nd 2016
Publisher: Allen & Unwin/Hot Key Books
Source: Review copy via publisher
Genre: Contemporary
My Rating:
Synopsis:
"Seventeen-year-old Sunny's always been a little bit of a pushover. But when she's sent a picture of her boyfriend kissing another girl, she knows she's got to act. What follows is a mad, twelve-hour dash around London - starting at 8pm in Crystal Palace (so far away from civilisation you can't even get the Tube there) then sweeping through Camden, Shoreditch, Soho, Kensington, Notting Hill . . . and ending up at 8am in Alexandra Palace.

Along the way Sunny meets a whole host of characters she never dreamed she'd have anything in common with - least of all the devilishly handsome (and somewhat vain) French 'twins' (they're really cousins) Jean Luc and Vic. But as this love-letter to London shows, a city is only a sum of its parts, and really it's the people living there who make up its life and soul. And, as Sunny discovers, everyone - from friends, apparent-enemies, famous bands and even rickshaw drivers - is willing to help a girl on a mission to get her romantic retribution."
---
Not gonna lie guys, when I read the full synopsis of London Belongs to Us I was sceptical of how Sunny would spend a whole night chasing down Mark as the blurb details – I mean how hard is one person to find when you know them and can contact them? I can 100% confirm that this book delivered as promised and it was exciting, fun, realistic and damn awesome. It's also so much more.
The book opens with our self-conscious, confidence-lacking, main character Sunny getting a photo of her (supposedly hunk) boyfriend locking lips with another girl. Poor girl is in absolute denial in the beginning then her hurt progressively grows into anger. I loved the realistic way her emotions slowly turn and the way they shape her actions in the book. Her development and growth is astonishing and I was cheering her on the whole way through. Some may think she's being stubborn and relentless at parts, but what's a girl to do when your whole life you've been trodden on like a doormat and this is the last straw? You show them what you're made of and not to be messed with! I really admired Sunny's determination and the way the events of the book help build her confidence.
On her adventures she's accompanied by her best friend Emmeline, but mainly these two French boys known as the Goddards – Vic and Jean-Luc. One is a playboy, and the other seems to only know sour expressions. But like sidekicks, they follow her around London, providing comic-relief, advice and segues into more hilarious moments. There's actually a whole cast of diverse characters that Sunny meets during her traipse through London – from drag queens, to superhero like girls, to famous band members. And yet because of the hour, the way things happen, it's all entirely believable. I loved that each character had their purpose, had some light to shed on the situation and offer help or advice.
I adored the way Manning gives us a real local's perspective of London nightlife. It's not the tourist walk through Westminster, going on the London Eye and visiting Buckingham Palace. It's the 'burbs; London trains at night with track work, out of the way clubs, hot wings at midnight. It's London like I would've never experienced on my own and Sunny certainly wouldn't have either at that hour without her vendetta.
Romance isn't the biggest factor in the book which I'm really grateful for. Qurrlll ain't got time for any boys when she on her quest to kick some cheating arse! I liked the way bits of Mark's true character are slowly revealed as the night goes on – in the beginning she thinks he's the most amazing person on earth and that she can't possibly deserve someone so wonderful. But as the night progresses and he never says he's where he is, Sunny notices his flaws. Each stop along the night draws out a memory, an aspect of Mark that has Sunny reassess her earlier feelings. It was refreshing to see her head slowly come out of the clouds.
The best thing about this book is the girl power. It's not just about one girl's quest for revenge. It's about her taking a stand, other girls helping her out, girls banding together in the face of pos ('piece of shit' for those of you who don't know, I recently learnt the term) guys who think girls can easily be duped and are just for hook-ups.
All this, in one night. From north London to south London (and back). London Belongs to Us is an appreciation of the city and its diverse people – the way they can help a girl on a mission to right a wrong.