Firstly, thanks to WalkerBooks Australia for this review copy <3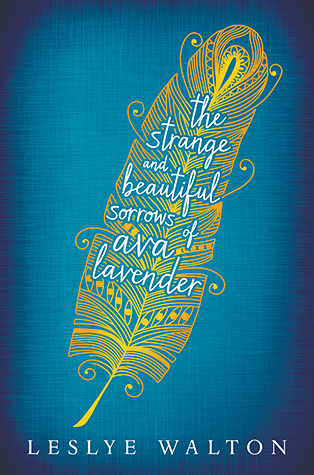 Date Read: January 29 2015
Date Released: March 25th 2014
Publisher: Candlewick Press
Source: ARC via publisher
Genre: Magical realism
My Rating:
Synopsis:
"Magical realism, lyrical prose, and the pain and passion of human love haunt this hypnotic generational saga.
Foolish love appears to be the Roux family birthright, an ominous forecast for its most recent progeny, Ava Lavender. Ava—in all other ways a normal girl—is born with the wings of a bird.
In a quest to understand her peculiar disposition and a growing desire to fit in with her peers, sixteen-year old Ava ventures into the wider world, ill-prepared for what she might discover and naïve to the twisted motives of others. Others like the pious Nathaniel Sorrows, who mistakes Ava for an angel and whose obsession with her grows until the night of the Summer Solstice celebration.
That night, the skies open up, rain and feathers fill the air, and Ava's quest and her family's saga build to a devastating crescendo.
First-time author Leslye Walton has constructed a layered and unforgettable mythology of what it means to be born with hearts that are tragically, exquisitely human."
---
"Happiness had a pungent scent, like the sourest lime or lemon. Broken hearts smelled surprisingly sweet. Sadness filled the air with a salty, sea-like redolence; death like sadness."
This was my first foray into magical realism and I honestly wasn't sure what to expect. It definitely took a while to get used to but I think once I did I really enjoyed this book. However, I thought the blurb was a bit misleading. It said Ava Lavender tries to understand why she was born with wings and embarks on a quest to find out why with a generational saga. This wasn't so much about Ava's own quest as it was an explanation into the history of the women in her family. I think I expected more of her. I felt sort of distant from her for a LOT of the book.
Ava's female ancestors certainly all have their own unique stories, beginning with Ava's great-grandmother, her grandmother Emilienne and her mother Viviane. It's a story of intense heartbreak and misfortune that filters down the female line. Personally, I thought there was too much bad stuff going on, to the point where I didn't feel anything. It was just one tragedy or heartbreak after the next and I was like "oh here we go what bad luck is going to befall them next" to the point where it was exhausting. The onslaught left me immune to feeling anything. There were definitely some happy moments but I just knew something bad would happen after.
I did like the women themselves though. I liked Emilenne's resilience and cold strength, Viviane's passion and the way Ava (when we FINALLY got to the 'present' of her story) just took her wings in stride. I loved Ava's friend Cardigan who treats her as a true friend, especially towards the end of the book.
There were definitely some things that happened in this that made me extremely uncomfortable and were just another addition to the terrible things that happened to Ava and her family. It made me cringe and lose faith in humanity. But it made me realise the importance of family and how people can come together in bad times to support each other.
There's also a hint of mystery tied into the plot that increases the intrigue of the Roux women's tribulations and adds depth to the existence of Ava's wings. The tinge of mystery in the history (hey that rhymes!) made the story more fascinating and again, made this a really wonderful take on magical realism.
The writing of this book was simply stunning. Walton's prose is so elegant and poetic and magical and it was her writing that made my heart ache. The way she described things accentuated the magical realism element of this saga. My favourites were the descriptions of Emilienne's bakery – those delectable pastries and breads and buns and desserts omg *mouth waters*
The Strange and Beautiful Sorrows of Ava Lavender is a beautifully written book of the strange events of Ava Lavender and the sorrows of her family. Falling in love, falling out of love, heartbreak and generations of misfortune come swooping down as Ava learns to open her wings and find her place in the world.
"It whispered to me from dark corners during lonely nights. It was the song of the birds in spring and the call of the wind through bare branches on a cold winter afternoon. Fate. Both my anguish and my solace."